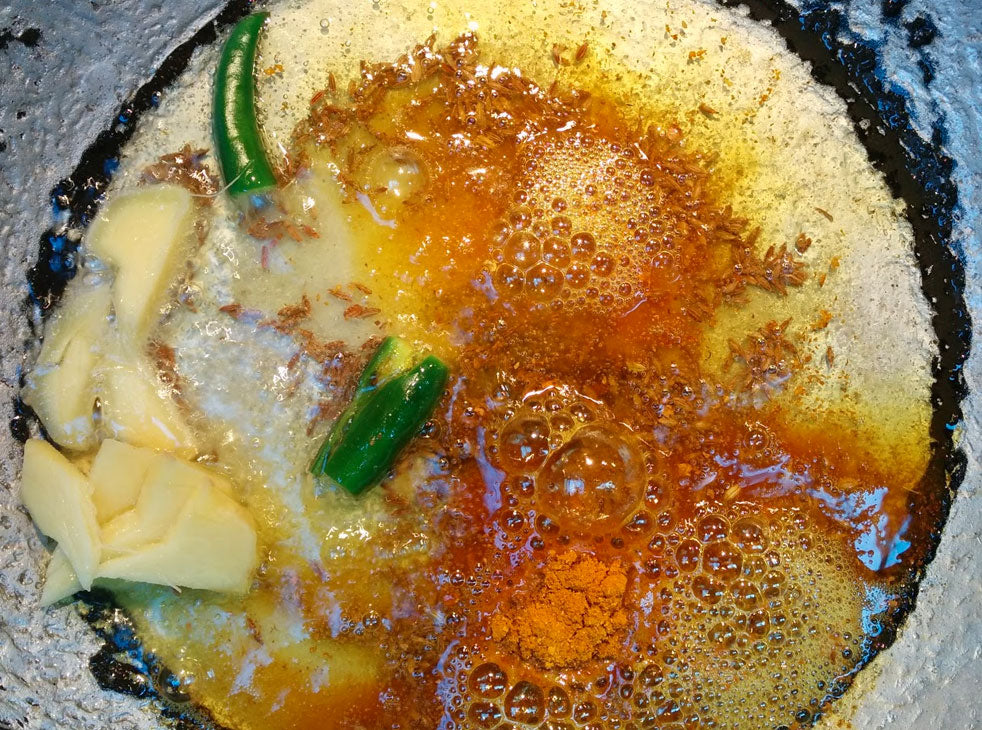 TURMERIC & GINGER SPICED POTATOES - 'Haldi and Adarak Masala Aaloo'
---
This vegetarian dish is the perfect way to showcase the benefits of the wonderful Indian spice turmeric as its star spice ingredient. This is a special family recipe of the chaYkra sister founders that was passed down from their dadi (paternal grandma). They have many fond memories of her teaching them the recipes…..
Did you know?
Turmeric is a 'golden' spice, coming from the Curcuma longa plant which grows in India.
Serving
4 people
Ingredients
4-5 potatoes
2 tbsp of vegetable oil
1/2 tsp cumin seeds
Pinch of salt
Turmeric
Red chilli powder
Coriander powder
Ginger, finely chopped
Garlic, finely chopped
Green chilli, sliced
Bunch of fresh coriander
 Method
Boil 4-5 potatoes. Cool and peel them. Cut the potatoes into cubes.
Add the oil to a non stick pan. Add jeera or cumin seeds until they start sizzling. Then add salt, turmeric, red chilli powder, coriander powder, finely chopped ginger, garlic and a green chilli. Mix well and then add the potatoes. Mix again and cook with the spices for 5 minutes. Add chopped coriander to the potatoes. Serve hot with chapatis, naan bread, or gluten-free alternatives.
---